An Idea Sparked, A Business Reimagined.
Dubbed an entrepreneurial paradise, Ryan Sim's We The People opened its doors in September 2016 to troughs of visitors at Orchard Central, right along the ever-buzzing Orchard Road. From a modest offering of 14 crowdfunded brands, the store saw a growth so tremendous it led to an expansion of five other brick-and-mortar stores on the island, all just within one year.
Prior to We The People, Managing Director Ryan Sim held an executive position in a digital agency. Veering away from the humdrum of a desk-bound job, he went on to launch Kisetsu with a friend - a niche company that produces a series of slim and ergonomic wallets. With Kickstarter, the duo received a whopping US$8,000 in pledge money for their shared project despite seeking for US$2,000 originally. Inspired and gratified by the outpouring of support throughout his project launches, Ryan took on the mission to build a bigger business dedicated to helping other budding creators turn their ideas into reality.
In a short span of time, We The People was created and pioneered the curation & sale of products exclusively funded by Kickstarter here in Asia.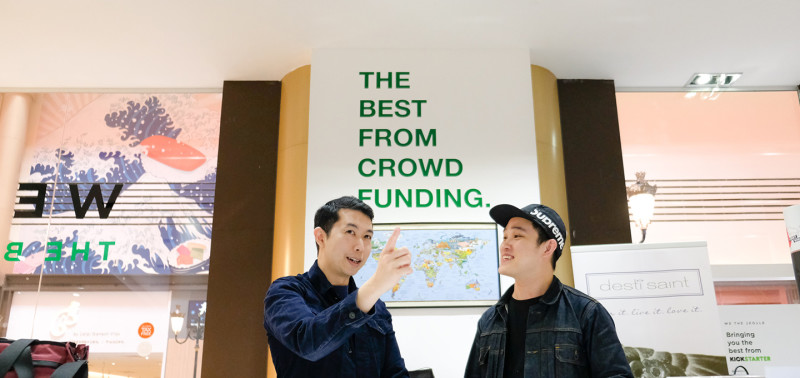 "We believe in building brands - empowering them to go further." 
It is with an unflagging passion along with tenacity that propelled the business into something greater than itself. Instead of being a traditional retailer, We The People harnesses the power of the crowd to fund quality ideas and turn them into tangible products to be placed strategically across the stores. Armed with an unconventional business formula, Ryan and his team led We The People to an 800% growth in revenue just from 2016 to 2017 alone.
Launching a project requires several costs - the cost of production, the cost of engaging in a retailer, and the opportunity costs of time and resources expended looking for individual investors for funding, etc. In an ideal setting, innovations that are still testing market demands would not be facing these many barriers to entry, and Ryan's business aims to obliterate these barriers on all fronts. However, We The People would not be able to readily absorb those costs from innovators, and at the same time support the stores' unbridled growth sustainably without enhancing its financial capabilities swiftly.
In April 2018, Ryan came across Funding Societies' business financing offerings via social media, took a gander at the strong synergy between P2P financing and his zeal for crowdfunded products, and the rest is history. While his business began to focus on growth at a rapid pace and tapping on fleeting opportunities for international expansion, sourcing for quick business funding with the right financing provider became imperative. With a fast turn-around from Funding Societies' loan application, We The People grew one step closer to its mission of becoming a global creator community.
Today, We The People has gone from offering 14 brands to offering more than 160 brands, most with multiple product lines. With five physical stores in Singapore, it has also expanded into Malaysia, St. Louis in the US, and built up an online store available worldwide at wtpstore.co.
More than just a multi-channel retail solution for crowdfunded products, Ryan has also been representing We The People in engaging with multiple tertiary institutions by offering free talks about product design and growth hacking amongst other topics; to educate students on just how crowdfunding could work for them in the future. In addition, We The People also hosts live funding by dedicating designer zones within the stores to budding Kickstarter entrepreneurs who wish to market-test and refine their products before launching a campaign.
Not ones to rest on their laurels, Ryan and his team have bigger dreams of introducing We The People to more parts of the world this year. It is Funding Societies' mission to provide prompt and comprehensive support to as many inspiring business owners like Ryan as we can, so that together, we can all work on becoming change-makers.
Published on: 9 September 2019