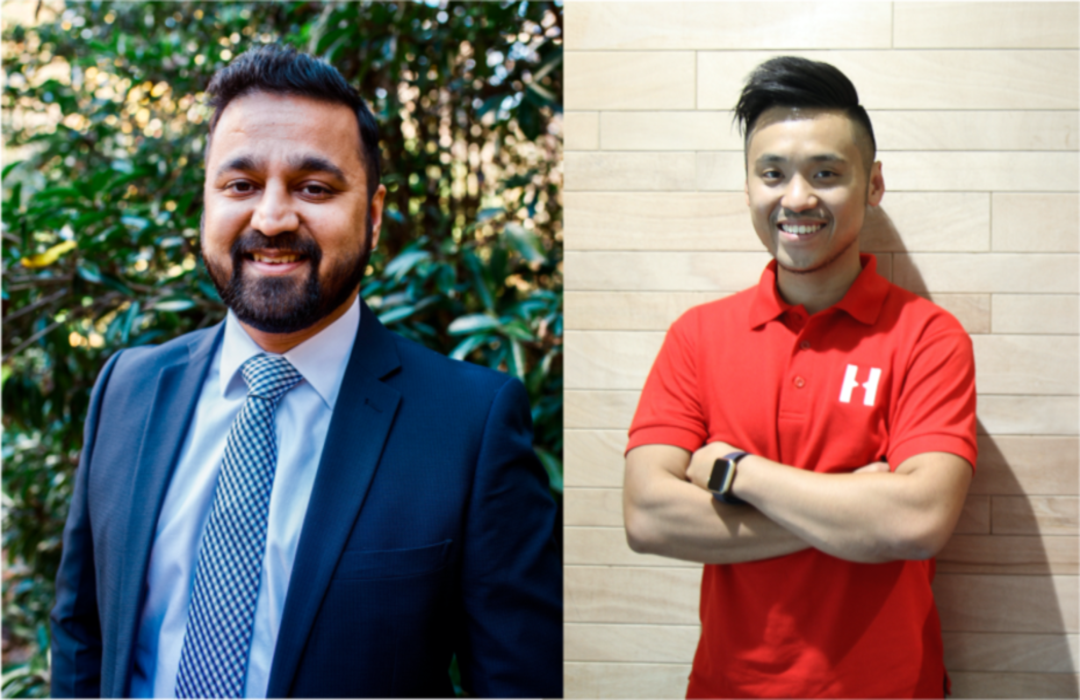 (Left to right): Shrawan Saraogi, Head of Partnerships, Funding Societies; Alvin Ea, Co-founder and CEO, Haulio
Singapore, 11 May 2021 - Funding Societies, Southeast Asia's largest SME digital financing platform, today announced its partnership with Singapore's leading haulier network, Haulio, to speed up payments to the latter's fleet of haulier partners across the island. Funding Societies' pre-approved credit facilities are now available on Haulio's digital platform, allowing Haulio's partners to enjoy access to early payment services in as quick as 7 days, in comparison to the industry standard of 30 days and more. This collaboration is the first of its kind across the FinTech and Haulage sectors and aims to benefit more than 90% of hauliers in Singapore within Haulio's network.
Funding Societies' and Haulio's partnership comes at the right juncture as the logistics sector remains a key pillar of Singapore's economy, contributing 1.4% to the nation's GDP in 2019. Over 86,000 supply chain workers across 5,300 enterprises are considered essential workers and continue to attend to the demands of container movement even through the pandemic and today's recovering economy. The traditional logistics industry is still fragmented by complex and inefficient business processes, which means that payment delays to hauliers could go up to 120 days with larger corporates, creating more obstacles to the sector's pay-per-use model. 
Haulio, which closed its pre-Series A round earlier this year, is Singapore's largest container haulage platform that uses technology to optimise the usage of haulage trucks and drivers. Launched in 2017, the digital haulage platform addresses the problem of fluctuations in shipment and provides demand-based container movement by matching their customers' requirements with available hauliers. To date, it has moved over a million Containers/TEUs (Twenty-Foot Equivalent) and processed over S$16 million payout to its haulier partners. With its aim to transform the haulage industry, Haulio sees value in incorporating financing solutions, like Funding Societies', as a value-added service in its ecosystem. 
"It has always been Haulio's mission to uplift the industry by empowering our ecosystem of users with technology. We hope that through this partnership with Funding Societies, our hauliers will enjoy improved cashflow and greater flexibility in managing their operations, as well as set the stage for us to scale this value-added service to our fast-growing expansion markets regionally," said Alvin Ea, co-founder and CEO of Haulio.
Established six years ago, Funding Societies offers a suite of growth financing solutions to creditworthy SMEs ranging from S$5,000 to S$2 million. By leveraging technology, the platform is able to disburse funds in as quick as 24 hours. Under this Supplier Financing Programme, Haulio's haulier partners who request for payment from Funding Societies are already pre-approved for a credit facility with the Fintech. As a result, once Haulio receives the invoice, it will send a payment instruction to Funding Societies who will then be triggered to expedite disbursal of the invoice amount to the haulier almost instantly. All of this is done via a fuss-free digital platform, which allows Haulio to address one of the biggest issues of the industry, which is the pertinent cash flow difficulties that hauliers face in today's legacy-based supply chain environment.
"As a FinTech founded with the mission to uplift economies in this region, we leverage our digital platform to bridge the huge financial gap that small businesses still face today. Southeast Asia is rising to become the next global economic powerhouse and we believe this partnership with Haulio will boost the region's trade tremendously," said Shrawan Saraogi, Head of Partnerships at Funding Societies.
Aside from the logistics sector, Funding Societies' suite of SME growth financing products serve across industries such as food & beverage, healthcare, manufacturing, and medical supplies. 
Interested partners may reach out at https://fundingsocieties.com/partners. 
-End- 
---
About Funding Societies
Funding Societies | Modalku is the largest SME digital financing platform in Southeast Asia. It is regulated in Singapore, Indonesia, Thailand, and registered in Malaysia. It is backed by Sequoia India and Softbank Ventures Asia Corp amongst many others and provides business financing to small and medium-sized enterprises (SMEs), which is funded by individual and institutional investors. In 6 years, it has helped finance over 4 million business loans with over S$2 billion in funding. It was given the MAS FinTech Award in 2016, the Global SME Excellence Award at the United Nations' ITU Telecom World in 2017, KPMG Fintech100 in 2018, Brands for Good in 2019, and in 2020 recognised by IDC as amongst the 5 fastest growing FinTechs in Singapore, won the Stevie® Award for Innovation in Technology, and named ASEAN Startup of the Year by Global Startup Awards.
About Haulio
Haulio brings together an efficient and intelligent haulage community through a range of collaborative digital tools that connect global trade to local first-mile transportation across ASEAN. Established in 2017, Haulio has more than 98% of Singapore's hauliers onboard and an established secondary presence in Indonesia and Thailand, with plans to expand its footprint regionally. Incubated by PSA unboXed (the corporate venture arm of PSA International), Haulio has welcomed strategic investors such as ComfortDelGro, Supply Chain Angels (SCAngels, the corporate venture arm of YCH Group) into its fold along with early-stage venture capitalists such as 500 Startups & Iterative VC. To date, Haulio has helped to move over 28 million tonnes of cargo, digitalising the movements of more than 1 million TEUs over 400K trips in SEA.
Media Contact
Glennice Yong
Senior PR & Communications Executive
Funding Societies
glennice.yong@fundingsocieties.com
+65 9155 4662
Ashley Tan
Consultant
FPR
ashley@financialpr.com.sg 
+65 6438 2990