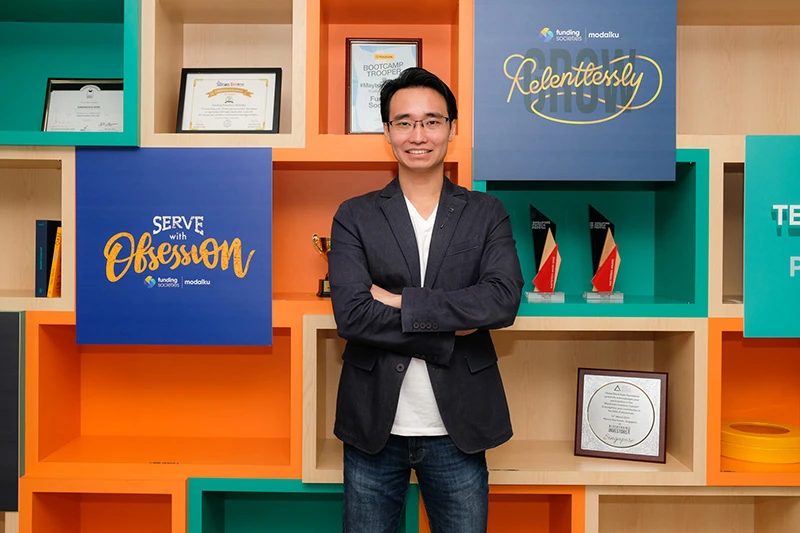 Kelvin Teo, Co-founder & Group CEO, Funding Societies
Singapore, 11 November 2020 - Funding Societies, Southeast Asia's largest SME digital financing platform, has today announced that it can now extend its financing solutions to more SMEs in Singapore under Enterprise Singapore's (ESG) Enterprise Financing Scheme (EFS). The FinTech's direct lending entity, FS Capital Pte Ltd (part of Funding Societies), received the approval to become a Participating Financing Institution (PFI) late last month after years of laying the groundwork with ESG to onboard FinTechs into the Scheme. 
Funding Societies, which operates as a digital lending platform and a direct lending business, will roll out the EFS products in a phased manner starting with Working Capital, Trade, and Temporary Bridging Loan products. In addition to advancing loans to SMEs who are currently underserved by traditional financial institutions, being part of the Scheme will help the FinTech lend to established SMEs looking for customised financing options and repayment structures. Funding Societies primarily addresses the fast and short-term lending gap with a usual processing time between three and seven days, and loan tenors of one to 12 months. It will disburse its first loan under the programme in November 2020. 
This approval marks another step forward in Singapore's call to liberalise its financial ecosystem, as Minister Thaman Shanmugaratnam highlighted in his speech at the Association of Banks in Singapore dinner last year. The entrance and popularity of digital lenders have increased healthy competition in the nation's financial landscape, making it important for them to be included in such programmes. Funding Societies is also part of a consortium with AMTD, SP Group and Xiaomi that has applied for the coveted Singapore digital wholesale bank license.
The FinTech's founders, Kelvin Teo and Reynold Wijaya, have been working closely with regulators over the years to bring better governance amongst digital lenders, to the benefit of its end customers. As a pioneer in the industry, Funding Societies was the first platform to engage an escrow service for the safe handling of investors' funds, which has now become the industry standard. 
Kelvin, who is also co-chairman of the marketplace lending committee of the Singapore FinTech Association, contributed to establishing the standardised definitions and disclosure of all such platform loan default rates to uphold transparency for their investors. Funding Societies has also secured a tax exemption for its retail investors in Singapore on their investment returns, as well as a special regulatory exemption to serve sole proprietors for its direct lending entity, in line with its mission of empowering more SMEs. 
The successful inclusion of FinTechs into the Enterprise Financing Scheme comes after sustained engagement with ESG (then SPRING) since January 2017. This inclusion as a PFI marks a significant step in ESG's effort and openness to embrace FinTechs to provide SMEs the much needed support, similar to the US and UK who channel funds to SMEs through FinTechs. 
Kelvin, Co-founder and Group CEO, said, "We're extremely grateful and impressed with ESG's initiative to include FinTech firms in its programme in a thoughtful manner, carefully balancing policy risk and impact. We see it as a huge privilege and responsibility to serve SMEs further."
Funding Societies is licensed and operating in Indonesia and Malaysia as well. Till date, it has disbursed S$1.75 billion through over three million loans across the region. It is backed by Sequoia India, SoftBank Ventures Asia Corp., and SGInnovate, amongst many others.
More details on Funding Societies' loans under the EFS can be found at https://fundingsocieties.com/esg. 
More details on the Enterprise Financing Scheme can be found on the ESG website. 
-End- 
---
About Funding Societies
Funding Societies | Modalku is the largest SME digital financing platform in Southeast Asia. It is licensed in Singapore, Indonesia and Malaysia, and backed by Sequoia India and Softbank Ventures Asia Corp amongst many others. It provides business financing to small and medium-sized enterprises (SMEs), which is funded by individual and institutional investors. In 5 years, it has helped finance over 3 million business loans with over S$1.7 billion in funding. It was given the MAS FinTech Award in 2016, the Global SME Excellence Award at the United Nations' ITU Telecom World in 2017, Brands for Good in 2019, recognised by IDC as amongst the 5 fastest growing FinTechs in Singapore, and the Stevie® Award in 2020.
Media Contact
Glennice Yong
Senior PR & Communications Executive
Funding Societies
glennice.yong@fundingsocieties.com
+65 9155 4662