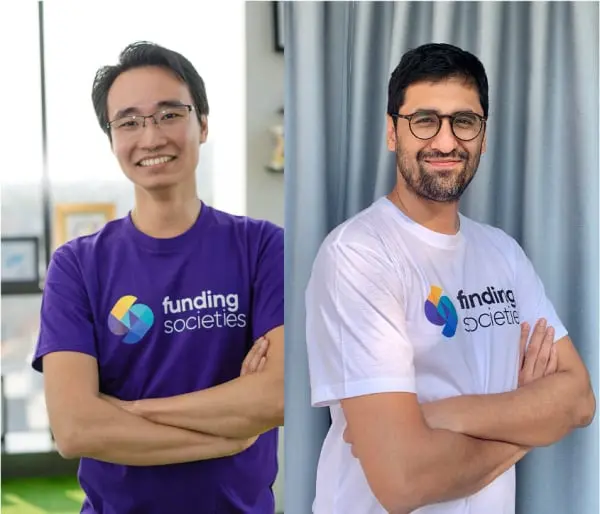 (Left to right): Kelvin Teo, Co-founder and Group CEO, Funding Societies | Modalku; Varun Bhandari, Country Head, Funding Societies Thailand
Singapore, 9 February 2021 - Funding Societies, Southeast Asia's largest SME digital financing platform, launches in Thailand today. The platform will operate under the debt-crowdfunding license given by Thailand's Securities and Exchange Commission. This expansion comes after more than one year of working with Thai regulators and planning for market entry. Operating in Singapore, Malaysia, and Indonesia, Thailand will be the FinTech's fourth market in its six years of operations, making it the only SME digital financing platform in Southeast Asia to be licensed in four countries.
Thailand is the second-largest economy in Southeast Asia and like many emerging economies in the region, much of Thailand's GDP comes from small and medium enterprises (SMEs). According to a paper published by the Asian Development Bank Institute, SMEs account for 99.8% of companies and generate 14 million jobs in Thailand, contributing US$215 billion to the nation's GDP. According to the International Finance Corporation, this leaves an SME financing gap of over US$40 billion in Thailand. This lack of funding has been exacerbated by the pandemic as lenders attempt to reduce their loan exposures to manage risk, making the credit gap not only critical but a lucrative opportunity as well.
Co-founder and Group CEO of Funding Societies, Kelvin Teo, said, "Funding Societies' vision has always been to financially enable growth for SMEs, while growing wealth for investors. Having built a market-leading presence in Singapore, Indonesia, and Malaysia, we're excited to bring our vision to Thailand and launch today. We'll also be able to better support Singapore companies expanding into Thailand and vice versa."
With the entry into Thailand, Funding Societies will be addressing the US$250 billion SME credit gap that exists in ASEAN's biggest economies - Thailand, Singapore, Malaysia, and Indonesia. Funding Societies has disbursed over US$1.4 billion in financing across more than 65,000 SMEs throughout the region and is prepared to provide Thai SMEs with full access to its short-term customisable financing solutions, which are funded by retail and institutional investors.
Varun Bhandari, Country Head of Funding Societies Thailand, said, "By leveraging technology, Funding Societies offers SMEs a new avenue of accessing business financing that is fast, affordable and convenient. The crowdfunding landscape in the country is growing steadily and we see a lot of potential here. We look forward to driving financial inclusion in Thailand andhelping to uplift the country's economy."
For Thailand's retail investors, Funding Societies' crowdfunding solutions will offer a new avenue for diversifying their portfolio from other asset classes. Investors can expect investment opportunities with interest rates of 8% to 13% per annum.
-End-
---
About Funding Societies
Funding Societies | Modalku is the largest SME digital financing platform in Southeast Asia. It is licensed in Singapore, Indonesia and Malaysia, and backed by Sequoia India and Softbank Ventures Asia Corp amongst many others. It provides business financing to small and medium-sized enterprises (SMEs), which is crowdfunded by individual and institutional investors. In 5 years, it has helped finance over 3.5 million business loans with over S$1.9 billion in funding. It was given the MAS FinTech Award in 2016, the Global SME Excellence Award at the United Nations' ITU Telecom World in 2017, KPMG Fintech100 in 2018, Brands for Good in 2019, recognised by IDC as amongst the 5 fastest growing FinTechs in Singapore, and the Stevie® Award in 2020.
https://fundingsocieties.com/
Media Contact
Glennice Yong
Senior PR & Communications Executive
Funding Societies
glennice.yong@fundingsocieties.com
+65 9155 4662