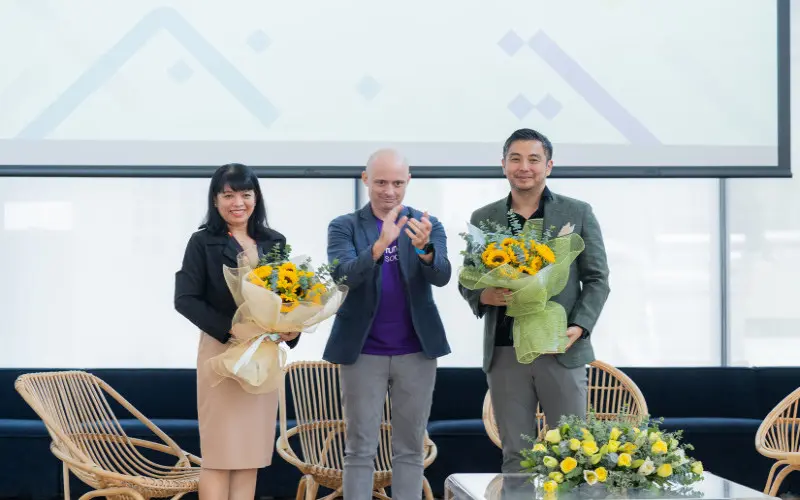 Left to right: Diem Phuong, Business Development Manager, Mastercard; Ryan Galloway, Country Director, Funding Societies Vietnam; Kelly Wong, Vice President of Game Entertainment and Lead Game Business, VNG
Singapore, 10 May 2022 - Funding Societies, Southeast Asia's largest SME digital financing platform, has officially launched in Vietnam today, marking its fifth market expansion. Addressing the small and medium-sized enterprises (SME) financing gap in Vietnam, where the SME landscape is growing yet financially underserved, is a natural next step for the fintech company as it pushes further into Southeast Asia.
According to Vietnam's Ministry of Planning and Investment, 98% of operating businesses in the country in 2020 are SMEs, employing more than 5.6 million workers and accounting for more than US$241 billion or 40% of Vietnam's gross domestic product (GDP). However, the gap between the number of registered SMEs and the number of businesses in operation has been widening over the years, with only 54% of registered SMEs appearing to be active in 2019. Access to funding remains one of the greatest obstacles to the growth of Vietnamese SMEs, and this has only been exacerbated by the COVID-19 pandemic. 
As the leading SME digital lender in Southeast Asia, Funding Societies serves as a trustworthy platform for SME financing with an AI-led credit model, offering traditional term loans, customisable financing solutions, and a range of trade-based financing options, such as invoice financing. In its seven years of operation, the company has disbursed over US$2 billion in business financing through more than 5 million loans across the region.
Kelvin Teo, Co-founder and Group CEO of Funding Societies | Modalku said, "Since our inception in 2015, our vision is to uplift societies in Southeast Asia. Hence, Vietnam has always been part of our roadmap. This is an opportune time as we ride out of COVID-19, build a solid team with local FinTech veteran Ryan Galloway, and secure investment from tech giant VNG. We believe that Vietnam will be one of our largest markets given its enormous potential."
Earlier this year, Vietnamese tech giant VNG Corporation invested US$22.5 million in Funding Societies as part of the fintech company's US$294 million series C+ fundraise, of which US$144 million was raised in equity and US$150 million in debt lines. Funding Societies also received the support of other notable investors in the funding round, including SoftBank Vision Fund 2, Rapyd Ventures, EDBI, Indies Capital, Ascend Vietnam Ventures, and K3 Ventures, among others. VNG will help Funding Societies to quickly adapt to the local market so it can provide solutions tailored to the unique needs of Vietnamese businesses.
Ryan Galloway, Country Director of Funding Societies Vietnam, said, "Vietnam SMEs don't have the same access to venture and early-stage capital markets as other Southeast Asian markets, but the Vietnam market is equally as competitive, so Vietnamese entrepreneurs are trained to do more with less. We see lots of opportunity in Vietnam and we're excited to support the country's burgeoning SME landscape as we continue to serve the needs of millions of SMEs across Southeast Asia."
Kelly Wong, VNG's Vice President of Game Entertainment and Lead Game Business said, "SMEs play a significant role in economic growth in SE Asia. There are significant challenges for them to access funding and capital to drive growth. Our investment in Funding Societies is aligned around creating opportunities for SMEs and to support their growth and development. As a homegrown Vietnamese tech company, we are also well placed to support Funding Societies in expanding into the Vietnamese market."
Operating in Singapore, Malaysia, Thailand, and Indonesia (where it is known as Modalku), Funding Societies is the only SME digital financing platform to be licensed and/or registered in four countries throughout Southeast Asia. In Vietnam, it is serving SMEs in various sectors like education, retail, tech, and FMCG, offering products such as trade financing, inventory financing, accounts receivable (AR) and accounts payable (AP) financing in and around Ho Chi Minh and Hanoi. The company looks to roll out local currency digital financing capabilities nationwide in the second half of the year. 
"Building on the success Funding Societies has had in other markets, we will improve turnaround time by further automating origination and underwriting to support Vietnamese SMEs more efficiently," Galloway added. 
Since its soft launch in Vietnam in December 2021, Funding Societies has already achieved over US$20 million in disbursements, and it is looking to increase this to US$90 million this year. To realize this ambition, in Vietnam, the company is looking to work with technology platforms and banking partners to support its mid-to-long term ambitions, consistent with how they partner with banks and recently invested into Bank Index in Indonesia. Meanwhile, regionally, Funding Societies will continue to deepen its presence in the five countries it operates in, with new financing and neobanking products. 
-End-
---
About Funding Societies 
Funding Societies | Modalku is the largest SME digital financing platform in Southeast Asia, with operations in Singapore, Indonesia, Thailand, Malaysia, and Vietnam. It provides business financing to SMEs, and to date has disbursed over US$2 billion in financing to MSMEs through more than 5 million loan transactions. Funding Societies is backed by SoftBank Vision Fund 2, VNG, SoftBank Ventures Asia, Sequoia Capital India, Alpha JWC Ventures, SMBC Bank, Samsung Ventures, BRI Ventures, Endeavor, SGInnovate, Qualgro, and Golden Gate Ventures, amongst others. It received the MAS FinTech Award in 2016, the Global SME Excellence Award in 2017, KPMG Fintech100 in 2018, Brands for Good in 2019, and ASEAN Startup of the Year in 2020. In 2021, it was recognized as an honorable mention in the Responsible Digital Innovator of the Year Award and won the MAS FinTech Award for the second time.
Media Contact
Glennice Yong
Assistant Manager, Brand and Communications
glennice.yong@fundingsocieties.com